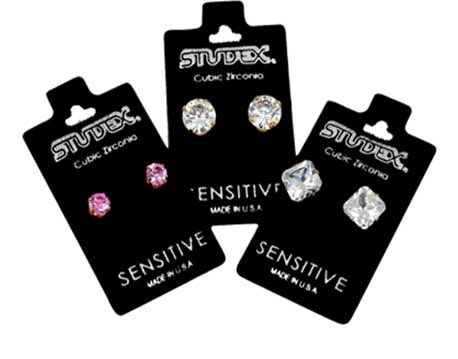 SENSITIVE
Post Piercing Fashion Ear Studs! Sensitive by Studex® is the high fashion ear studs solution for people who suffer from nickel sensitivity. Each classic style is made of the highest quality surgical stainless steel and karat gold. Each style is safe enough to be worn every day, guaranteed. All Studex Fashion Sensitive by Studex® ear studs are sold in pairs on the puff pads. S/S - Stainless Steel or G/P - Gold Plated
Features of SENSITIVE
Made 100% in the U.S.A.
The finest allergy-free earrings in the world. Made 100% in the U.S.A.
Sensitive by Studex®
Sensitive by Studex® is the high fashion earring solution for people who suffer from nickel sensitivity. Each classic style is made of the highest quality surgical stainless steel and karat gold. Each style is safe enough to be worn every day, guaranteed.
Hypoallergenic Earrings
All styles are featured in our premier kits consisting of USA made hypoallergenic earrings on our unique rotating acrylic displays. Each display features easy to re-stock posts along with customer friendly mirror panels.
All Studex Fashion Sensitive by Studex® earrings are sold in pairs on the puffpads.
S/S - Stainless Steel
G/P - Gold Plated